TOPICAL MATTERS and NEWS
Facebook
FoFNL now has a page on Facebook.
We are hoping our page will stimulate interest in what we do and the Far North Line in general. Please have a look at our page, like it (if you do!) and share it with your friends.

FoFNL AGM and Conference
Our 2017 AGM takes place this Friday - 23 June at 11:00, followed by our Conference at 11:45.
See our newsletter announcement for details.
Whilst the AGM is open to members only (please remember to bring your membership card) the Conference is open to the public.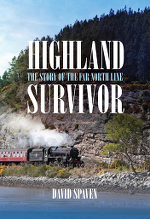 Highland Survivor, The Story of the Far North Line, wins Award!
David Spaven's new book, Highland Survivor: the story of the Far North Line was launched on 21st September and has now won the 2017 Railway Book of the Year award from the Railway and Canal Historical Society.
It's hard to imagine that anyone reading this wouldn't want to get their hands on a copy straight away, especially if they have recently read David's book, Waverley Route: the Battle for the Borders Railway. The Story of the Far North Line is a great read and explains exactly how the Far North Line has arrived at this point in its history
Price: £16.99
Published by Kessock Books
Also available from:
Waterstones, Eastgate Shopping Centre, Inverness
Picaresque Books, 55 High Street, Dingwall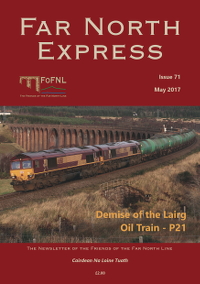 May Newsletter
The May newsletter was posted to FoFNL members today.
As always this is where I mention that if you were a member you would have received this edition of Far North Express in May and not have had to wait a few weeks until it's published here. In any case, a hard copy of the magazine is always better than the online version!
Plus by joining you would be helping to strengthen our arguments even more for the work that needs to be done on the line.
Friends of the Kyle Line
We've had a request from our colleagues at the Friends of the Kyle Line who ask:
Would you have any member in Dingwall or Inverness who could work part time for our Charity selling Kyle Line maps @ £10 per hour. Daily 10-2?
May Newsletter Online
As always, our newsletter is published online about a month after our members have received their hard copy.
Have a look at the latest issue and then reflect on how nice it would have been to just be able to flick through it at leisure - if only you'd joined !!
And when you do join you'll be supporting a very good cause - the more members, the stronger our voice!
Review Team Announced
At the Rail Stakeholder Conference on 16 December Fergus Ewing, the Scottish Government's Cabinet Secretary for the Rural Economy and Connectivity, announced he has instructed Transport Scotland to set up a Review Team to look at the Far North Line in detail and come up with a suite of actions. The team consists of Abellio ScotRail, Network Rail, HITRANS and FoFNL.
This is a major step towards achieving necessary improvements including the installation of the Lentran Loop.
The first Review Team meeting is scheduled for 25 January.
Football Results

FoFNL Commissions In-depth Report into the FNL
FoFNL has commissioned Tony Glazebrook of Aliona Ltd to carry out a detailed study of the Far North Line.

Tony was given full access to the line during the first week of October, including a full-length journey in the cab of a service train, the best position to see the state of the infrastructure.
Phil Verster, Managing Director of the ScotRail Alliance, ensured that Tony had full access to the railway and the operational staff. This enabled a comprehensive review of the difficulties the line has been experiencing.
FoFNL Convener Mike Lunan commented, "FoFNL has made its views known to politicians and funders for many years: this Report will allow us to be more focused and evidence-based, and we record our gratitude to its author, Tony Glazebrook."
The full report is available here.
Highlanders condemned to live in a rail timewarp, writes Alastair Dalton in The Scotsman
We have been given permission to publish his article which eloquently expresses the current frustration with services on the Far North Line.
If you are unaware of the current situation please read the article now.
It is to be hoped that through articles such as this MSPs and others who are involved in the decision-making process about investment on the railway will realise that there is a serious problem and that they can help to address it.
We have to persuade politicians that although the Far North Line is remote from Edinburgh and Glasgow it is just as vital that it should have the necessary investment to play it's part successfully in the Far North. To this end FoFNL members have been writing to individual MSPs to bring the need for the Lentran Loop to their attention.
At a Loose End in Thurso?
Here's something to do (if you have the right equipment and can use it...)
Scottish Golf by Train
If you're interested in golf, and if you're not, you'll find Scottish Golf by Train well worth a look. It is packed with information about over 400 Scottish golf courses with all the information you need to reach them by train. Can't help thinking that someone will want to attempt the complete collection!
It is lamentable that you currently need to change onto a bus for the last five miles of your journey to the Home of Golf. Campaigners in St Andrews are working hard to rectify that.
FoFNL Response
to Transport Scotland Rail Freight Consultation 2015/16
We have put our response into a .pdf file available to read or download here.
Viewhill House Inverness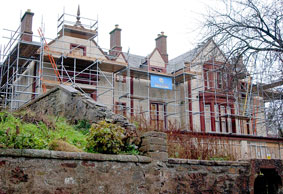 FoFNL has been asked to lend its support to a project to restore a large house in Inverness. The house was designed by and built for Joseph Mitchell who was a civil engineer and surveyor responsible for many Highland and Far North projects, including, on the Far North Line, Tain Station and the Oykel Viaduct.
The proposal is to convert the house to flats and to include a small museum showing Joseph Mitchell's work.
Have a look at the Highland Historic Buildings Trust for full details.
Highland Railway Society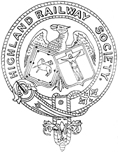 We have received the following request from Anne-Mary Paterson of the HR Society:
I am starting research for a new book on the bridges and viaducts of the Highland Railway to be published by the Highland Railway Society.
I would like to include stories with a human interest rather than just presenting the bare facts. If you can help me with any anecdotes about the bridges and viaducts please contact FoFNL who will forward your details to me.
Serco Sleepers Appreciated
T
he Scotsman newspaper
reported on October 29th
that Lonely Planet's
2016 Best in Travel
guide rates Serco's London-Fort William Caledonian Sleeper service the world's best sleeper route.
Thought For The Day
T his should really be a thought for every day for government ministers, politicians in general and commentators on railway matters:
Single track railway with passing loops = single track road with passing places (in the case of railways such as ours it is many miles between passing places - on the roads they are every few yards to avoid inconvenience).
Double track railway = single carriageway road.
Quadruple track railway (e.g. West Coast mainline out of London - rare in UK) = Dual Carriageway.
Conclusion:
In road terms the four rail routes out of Inverness are all single track roads with passing places apart from a 30 mile stretch of "single carriageway" north of Blair Atholl.
Interesting that work has now begun on the Perth-Inverness section of the A9 to widen it to the rail equivalent of four tracks.
Far North Line is Not Alone!
This is a link to an interesting news item about Danish Railways, spotted by a FoFNL member.
It's worth following the "Read More" link on that page to enjoy some "Lost in Translation" fun!
Sturgeon acknowledges necessity of good rail services for the Highlands
At the Scottish Cabinet meeting held in Inverness on 23rd March 2015 First Minister, Nicola Sturgeon, was upbeat about rail travel in comments she made as part of the launch of the new Serco sleeper service between Scotland and London.
"We have a duty to make sure that Inverness and the Highlands are well connected to the rest of Scotland, just as we need to make sure that Scotland is well connected to the rest of the UK."
She added: "We want to see people travelling by train and by public transport as much as possible but that's not a substitute for things like dualling the A9 and we have plans in place to do that. These things shouldn't be either or. If you live in the central belt you don't expect to choose between good roads and good train services, and if you live in the Highlands you shouldn't have to choose either."
Highland MSP given Abellio assurances
Abellio's UK Rail Development Director, Mike Kean, has assured Highland MSP Rhoda Grant at a meeting on March 11th 2015 that "we will start to see improvements along the line and we can expect a dramatically improved service by the end of 2018."
Abellio took over the ScotRail franchise on April 1st 2015 and is under pressure to restore public faith in the Far North Line as soon as possible, ending a lengthy period of desperately unreliable service with a huge number of cancellations, uncompleted journeys and skipped station stops.
FoFNL will be lobbying Network Rail and Transport Scotland as well as Abellio for the serious investment that is needed so urgently.
If you have any comments or require any information please contact FoFNL by
E-mail
Welcome to the Friends of The Far North Line
The Friends of the Far North Line is the campaign group for rail north of Inverness, lobbying for improved services for local users, tourists and freight.
Our website will give you an insight to FoFNL's successes and concerns. You will find a complete collection of newsletters dating back to 1998 as well as an archive of interesting documents.
This is a map of the Far North Line which is situated in the northernmost part of Scotland. Hovering the pointer over the name of a station will display a local photo.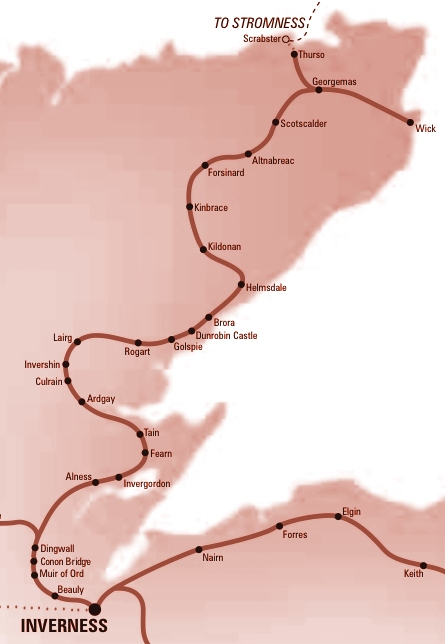 Our aims include:
The continued retention and improvement of the line from Inverness to Wick/Thurso.
The development of services for local residents and tourists alike.
Enhancement of freight services.
Publicising the line, its attractions and potential.
Liaison with local groups to foster interest in the line.
Liaison with ScotRail, statutory bodies and tourism authorities.
The use of the line by heritage trains.
Our 1995 conference for rail interests was the precursor of the Highland Rail Partnership a collaborative body spanning the Council, Highlands and Islands Enterprise, local Enterprise companies, rail operators, the Friends Groups and others.
Achievements include the Easter Ross commuter train, Beauly and Conon Bridge stations, all-year Sunday trains, initiating the re-introduction of significant freight, the transporting of extremely long lengths of pipe to Wick, and the building of a footbridge alongside the Shin Viaduct. A substantial increase in freight is still needed and we will continue to persuade haulage contractors that there is an alternative to driving long distances over inadequate roads.
We continue to seek shortened journey times and hourly services between Inverness and Tain. We aim to work in partnerships, we publish a thrice yearly Newsletter, we are democratically governed through our AGM and a geographically representative committee.
---
Join...
If you would like to join The Friends of The Far North Line please download, print out and complete the application form. If you prefer, you can phone our Membership Secretary on +44 (0)1334 475311. Annual membership is only £15.00 (£12.00 if you set up a standing order) for individuals and £17.00 for corporate or organisation membership.
---
Office Bearers
Rhoda Grant MSP
Gail Ross MSP
David Start
29, Ethelwulf Road
Worthing
BN14 7NF


Angus Stewart
36 Learmonth Place
St Andrews
Fife
KY16 8XF


Bob Barnes-Watts, Inverness
The photo of Culrain station was taken by Peter Van Den Bossche and the photo of Altnabreac by Dennis Troughton. Both are used under the Creative Commons Licence.