TOPICAL MATTERS and NEWS
Facebook
FoFNL now has a page on Facebook.
We are hoping our page will stimulate interest in what we do and the Far North Line in general. Please have a look at our page, like it (if you do!) and share it with your friends.

Audio Guides to the Far North Line
The Scottish Natural Heritage website carries some excellent audio guides to the Far North Line. They are in MP3 format and are ideal for listening to on the train.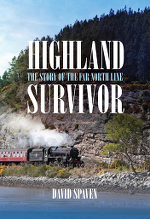 Highland Survivor, The Story of the Far North Line, wins Award!
David Spaven's new book, Highland Survivor: the story of the Far North Line was launched on 21st September 2016 and has now won the 2017 Railway Book of the Year award from the Railway and Canal Historical Society.
It's hard to imagine that anyone reading this wouldn't want to get their hands on a copy straight away, especially if they have recently read David's book, Waverley Route: the Battle for the Borders Railway. The Story of the Far North Line is a great read and explains exactly how the Far North Line has arrived at this point in its history
Price: £16.99
Published by Kessock Books
Also available from:
Waterstones, Eastgate Shopping Centre, Inverness
Picaresque Books, 55 High Street, Dingwall
Friends of the Kyle Line
We've had a request from our colleagues at the Friends of the Kyle Line who ask:
Would you have any member in Dingwall or Inverness who could work part time for our Charity selling Kyle Line maps @ £10 per hour. Daily 10-2?
Review Team
At the Rail Stakeholder Conference on 16 December Fergus Ewing, the Scottish Government's Cabinet Secretary for the Rural Economy and Connectivity, announced he has instructed Transport Scotland to set up a Review Team to look at the Far North Line in detail and come up with a suite of actions. The team consists of Abellio ScotRail, Network Rail, HITRANS and FoFNL.
This is a major step towards achieving necessary improvements including the installation of the Lentran Loop.
The Review Team's work is now in full swing.
FoFNL Commissions In-depth Report into the FNL
FoFNL has commissioned Tony Glazebrook of Aliona Ltd to carry out a detailed study of the Far North Line.

Tony was given full access to the line during the first week of October, including a full-length journey in the cab of a service train, the best position to see the state of the infrastructure.
Phil Verster, Managing Director of the ScotRail Alliance, ensured that Tony had full access to the railway and the operational staff. This enabled a comprehensive review of the difficulties the line has been experiencing.
FoFNL Convener Mike Lunan commented, "FoFNL has made its views known to politicians and funders for many years: this Report will allow us to be more focused and evidence-based, and we record our gratitude to its author, Tony Glazebrook."
The full report is available here.
Scottish Golf by Train
If you're interested in golf, and if you're not, you'll find Scottish Golf by Train well worth a look. It is packed with information about over 400 Scottish golf courses with all the information you need to reach them by train. Can't help thinking that someone will want to attempt the complete collection!
It is lamentable that you currently need to change onto a bus for the last five miles of your journey to the Home of Golf. Campaigners in St Andrews are working hard to rectify that.
Viewhill House Inverness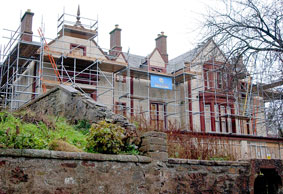 FoFNL has been asked to lend its support to a project to restore a large house in Inverness. The house was designed by and built for Joseph Mitchell who was a civil engineer and surveyor responsible for many Highland and Far North projects, including, on the Far North Line, Tain Station and the Oykel Viaduct.
The proposal is to convert the house to flats and to include a small museum showing Joseph Mitchell's work.
Have a look at the Highland Historic Buildings Trust for full details.
Thought For The Day
T his should really be a thought for every day for government ministers, politicians in general and commentators on railway matters:
Single track railway with passing loops = single track road with passing places (in the case of railways such as ours it is many miles between passing places - on the roads they are every few yards to avoid inconvenience).
Double track railway = single carriageway road.
Quadruple track railway (e.g. West Coast mainline out of London - rare in UK) = Dual Carriageway.
Conclusion:
In road terms the four rail routes out of Inverness are all single track roads with passing places apart from a 30 mile stretch of "single carriageway" north of Blair Atholl.
Interesting that work has now begun on the Perth-Inverness section of the A9 to widen it to the rail equivalent of four tracks.
If you have any comments or require any information please contact FoFNL by
E-mail