TOPICAL MATTERS and NEWS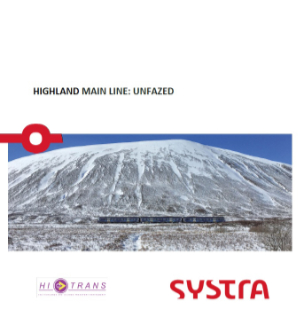 HIGHLAND MAIN LINE: UNFAZED
HITRANS has commissioned SYSTRA to undertake a review of the current operation of, and investment in, the Highland Main Line (HML) between Perth and Inverness. This report seeks to understand the possible interventions required to address journey time and connectivity issues that previous investments have not resolved.
This is well worth a read. The ground it covers will be familiar to readers of FoFNL's magazine since the HML shortcomings are a major topic in every issue!
You can read it here.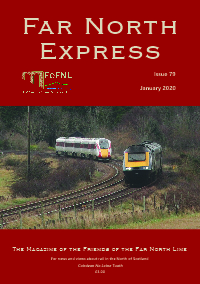 Online version of January
Far North Express
It is now possible to read the online version of the January edition of Far North Express, on our website.
Although it's useful to have all copies of the magazine available online, from the point of view of reading a copy in full the printed version is vastly superior, and a much more enjoyable read!
Of course, if you were a member you would have had your copy three weeks ago.
Perhaps you might think of joining now (see below) - if you do you'll also receive a free copy of our book, FoFNL 25 , which sells for £5.00

Join FoFNL with PayPal!
FoFNL has now added the option to pay for membership using PayPal.
This means you can join us without having to fill in an application form and post it!
Just to remind you, we offer one year's membership for £15.00, continuous membership for £12.00 per annum and Life membership for £120.00. All can be purchased at the click of a button.
If you're not yet a member please head to our joining page now!
All new members receive a free copy of FoFNL 25 while stocks last!
Time for Timber Trucks to Give Way to Trains
The January edition of our triannual magazine Far North Express went to press today. We just missed the chance to include an article about the urgent need to get timber back on trains in Scotland, by FoFNL member, renowned railway author and Scottish Representative of the Rail Freight Group, David Spaven.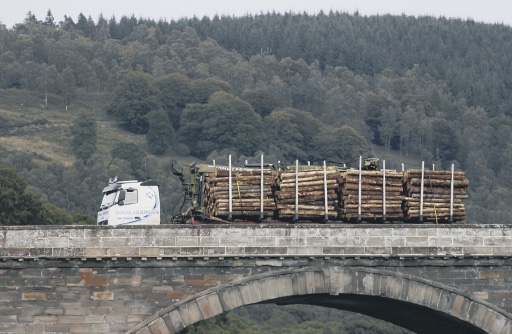 We strongly recommend that you read this - especially if you are a politician or owner of a factory that uses Scottish timber.
FoFNL 25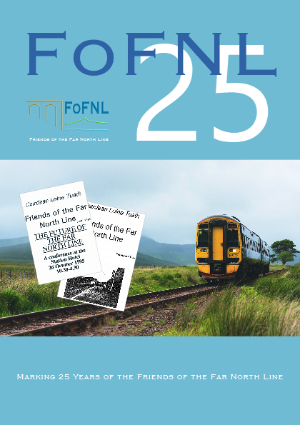 FoFNL has published a 76pp A5 book to mark the 25th anniversary of its formation.
The book contains articles written specially, a 'timeline' of excerpts from our magazines/newsletters and other documents, and some pages of beautiful photographs of the line.
It gives an idea of what rail campaigning consists of - and how long it can sometimes take for things to come to fruition!
It is available directly from us, priced £5.00 including p+p.
If you do not wish to purchase using PayPal please either send an email to admin@fofnl.org.uk and make a BACS payment to:
Acc no: 00358919
Sort code: 80-91-26
IBAN: GB11 BOFS 8091 2600 3589 19
using your name as reference,
or post a cheque, payable to Friends of the Far North Line for £5.00 to:
FoFNL 25
3 Villafield Loan
Bishopbriggs
Glasgow
G64 3NZ
We were delighted that Rhoda Grant, one of our Vice-Presidents, lodged this motion in Holyrood on 18 November. It has already received valuable press coverage which helps us to keep the Far North Line in the forefront of people's minds.
Motion S5M-19935: Rhoda Grant, Highlands and Islands, Scottish Labour, Date Lodged: 18/11/2019
That the Parliament congratulates Friends of the Far North Line, which is celebrating 25 years of campaigning; acknowledges that it has worked tirelessly to protect, promote and deliver rail improvements to the Far North Line and the Caithness/Inverness rail service; notes that it has produced an informative anniversary booklet to celebrate its achievements, its members and its combined knowledge; believes that the group has made a real contribution to keeping the economic and social value of the line in the public eye for more than two decades, and wishes it all the best and a celebration of more improvements in the future.
Supported by: Liam McArthur, Bill Kidd, Richard Lyle, Gil Paterson, Elaine Smith, Jenny Gilruth, John Finnie.
Far North Line Review Team Report
Last week the long-awaited Far North Line Review Team Report was signed off by ministers and its plans published by Transport Scotland.
Because of the way projects are now managed, the main infrastructure work is not listed in detail as it is still going through early development work. Unlike previous Control Periods where projects were announced by Transport Scotland before some of the detailed work had been done, and were therefore at risk of running over budget, definite commitment will now be given once all the costs are known. This is the 'pipeline' approach, where projects which will be started in the current Control period (CP6) are not yet officially committed.
From the point of view of campaigners, such as FoFNL, this can be frustrating. Suffice to say at this point that, given that the likely cost of the works outlined in the Report is already known, and that the whole new service specification (timetable and service pattern) which has been agreed in the Report depends on the infrastructure work being done, it is hard to see a scenario in which it will not take place. We just hope it's pretty soon!
Transport Scotland Press Release - 1 November 2019
Transport Scotland FNLRT Report.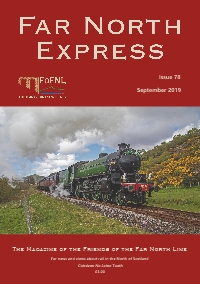 Far North Express - September 2019
This is a rather belated announcement that FNE 78 is now available online .
The printed copy is much more enjoyable to read though - if you're a member, you'll know this already!
If you haven't yet joined, please do - the more members, the more influence. We've had several life members join this year too - very encouraging!
We also use FNE as a way of keeping the FNL in the forefront of the minds of politicians and the rail industry by giving them complimentary copies.
We know from feedback that they read them too!
Levenmouth to be Reconnected
The reopening of the link to Levenmouth and the rail network is to be taken forward to the next stage of development alongside new bus and active travel provision, following an assessment of transport links in the area.
Cabinet Secretary for Transport, Infrastructure and Connectivity Michael Matheson confirmed the news today when he met council leaders and local community groups. A proposed rail link with stops in Leven and Cameron Bridge combined with improved bus services as well as cycling and walking facilities emerged as the best performing options in the Levenmouth Sustainable Transport Study.
The appraisal concluded that these measures would enhance employment opportunities as well as access to education, health and leisure services.
The project will now go forward to the detailed design phase with initial estimates of construction and preparation costs of around £70 million. Mr Matheson also committed an additional £5 million to a Levenmouth Blueprint fund available to partners to maximise the benefits of the Scottish Government investment in the area.
Cabinet Secretary for Transport, Infrastructure and Connectivity Michael Matheson said:
"I am extremely pleased that the case has been made for the Levenmouth rail link and I look forward to seeing this project being taken forward to the next stages of design.
"The detailed appraisal work that has been carried out suggests that improved transport links, which give Leven a direct rail link to the capital, will lead to an enhanced local economy, bringing better access to employment and education and the potential for new investment. Easier and more sustainable travel options will make it easier for people to reach hospitals, schools and visit other areas of the country as well as giving better access to Levenmouth.
"I would like to acknowledge the hard work of local MSPs, elected members and interest groups who have campaigned for the reopening of this line and I look forward to working with all partners to realise all of the benefits that improved connectivity can bring."
FoFNL congratulates Levenmouth Rail Campaign on their well-deserved success and looks forward to making our own announcement about the Lentran Loop and other improvements to the Far North Line very soon...
FNL Catering Trolleys
FoFNL has been asked by ScotRail's Commercial Director for any thoughts on how to improve sales on the catering trolleys on the Far North Line.
As many people will know, there has sometimes been a catastrophic lack of catering provision recently. Our first reaction therefore was that sales would increase if passengers knew they could trust SR to provide catering. Obviously, if you're about to travel and you know the likelihood of last minute catering cancellation, you'll bring your own supplies.
However, we feel this is a serious opportunity to pass your suggestions on to ScotRail. Please have a think and email us - we will pass on all constructive suggestions.
FoFNL May Magazine
Our latest magazine is now online. Please have a look, and if you find it interesting, and our campaigning worth supporting, please join us!
The more members, the more influence...
FoFNL AGM & Conference 2019
This is a belated post about FoFNL's extremely enjoyable and informative AGM & Conference last Friday in Brora.
The only disappointment was that attendance was a little down on last year's event. We think this is due to the fact that we have a policy to move our AGM to a different place each year. Its length is pretty fixed and that didn't fit well with Brora's train times.
Good news though that our membership is now well over 200 and growing - please join now if you're not a member!!
We had five excellent speakers this year. Bill Reeve, Director of Rail, Transport Scotland, opened with a lot of positive reactions to the success of the Far North Line Review Team, which met for the final time on 1 February. He listed the many initiatives now coming to fruition and hinted that the bigger things we are hoping for (e.g. the Lentran Loop) are on the way. Indeed Bill's opening remark to me on arrival was, "I'm suffering from a sense of optimism!"
Bill was followed by Sir Peter Hendy, Chairman of Network Rail who continued in the same optimistic vein. Summing up he said, "the idea that the Far North Line could ever be under threat of closure is inconceivable (or words to that effect)"
The third speaker was David Shirres, Editor of Rail Engineer. His brief was to talk about trains beyond the end of diesels. He gave an excellent presentation covering other forms of propulsion currently under development, referencing Vivarail's battery train and the Hydrogen-powered train built by Alstom. As he said, all future trains will be electric and the motors will not care where their power comes from.
After lunch we had a summary by Frank Roach of the current work of HITRANS, including plans for a sleeper service from Caithness to the Central Belt, which is now in urgent need of political support - MSPs and Councillors etc please note! Frank was joined in front of the audience by Alice Gillman, Head of Marketing at Vivarail who gave an entertaining and inspiring pitch for using one of Vivarail's battery trains to provide a shuttle service between Thurso and Wick, pointing out that powering the train would be almost free, using power from the Pentland Firth, stored in a container-sized building - or indeed a container, perhaps - full of life-expired batteries from other transport uses, and used to charge the train at Wick. This seems to us a no-brainer as long as it is something people would use. There are already good indications of interest from local residents - we look forward to hearing more...
Next in line was Scott Prentice, Head of Business Development, ScotRail. Not obvious from his job title is that he is responsible for designing service patterns and is currently working on a completely new way of organising FNL services. This will take a while and depends on the Scottish Government agreeing to fund certain enhancements (e.g. the Lentran Loop). It is an exciting prospect, aiming to give as much of a regular 'clock-face' service as possible.
The last speaker was chosen to fulfil our current wish to have one speaker not from the rail industry. In Brora it was Dr Nick Lindsay, Chairman of the Clyne Heritage Trust which is all about the history of the Brora area. Dr Lindsay's talk was fascinating and I for one now wish to return to Brora and have a good look round!
Please look out for info about next June's event and join us - it's open to the public!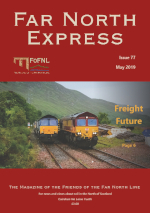 May Magazine
FoFNL members received their copy of our May magazine last week.
If you're reading this, but not a member, please think about joining. We need to encourage younger people to join so that our work will be continued long into the future.
Also, you would already have your copy to read!
Opening Up The View
FoFNL has been asked by ScotRail's Tourism Manager to help identify sections of the Far North Line that we believe would benefit from vegetation clearance for tourist/visitor purposes. This is to improve views from the train of particularly scenic areas, rather than necessarily improving operational performance (which is already part of scheduled maintenance on an ongoing basis by our colleagues at Network Rail).
He says, "We carried out a similar exercise a few years back but I am keen to ensure we have updated records and are prioritising the right sections. We will only be able to carry out a limited amount of vegetation clearance so it is essential we focus on the sections which will give the greatest benefit.
"Ideally if you could identify the geographic area/section, roughly how long it is, and whether the vegetation needs to be cleared on one or both sides (and if one side, which side), we will then compare this info with Network Rail's data to identify a schedule of works.
"Please note I am also looking at other scenic lines, such as the West Highland and Kyle Lines, and that we only have a limited budget and timescale. Therefore, I cannot guarantee we will be able to carry out the work in the current financial year, but the info supplied will help us develop a priority list for the works.
"If you are able to identify 1 or 2 short sections quite quickly (say by the end of April) then we can try and get to work on those quite quickly, and add other sections at a later date once you've had the opportunity to consider and review in more detail."
Please email us with any thoughts.
No News is...
...no news!
We had been hoping to make an announcement about the planned works for the Far North Line in CP6 after the Rail: North of the Border conference on 26 March. It is looking as though the new 'pipeline' process, by which projects are fed into the workstream more or less continually, as they are agreed, rather than being decided upon in five-year inflexible blocks means that information is not released until each planned work is finalised.
This makes good sense as a way of working, but from our point of view prolongs the agony of expectation. I should stress that we have no reason whatsoever to be pessimistic but the opportunity for a resounding fanfare on 27 March would have been nice!
FoFNL 25th Anniversary Offer
2019 is the 25th anniversary of the formation of FoFNL. To mark this we have introduced the option of Life Membership of the Friends costing £120, with a special reduced rate of £100 if you become a life member by 31 October 2019.
Why not become a life member now, guaranteeing that you will receive our three magazines each year and won't have to remember to renew your subscription ever again?
Download and print out our membership form from here.
Good News from ScotRail
FoFNL has some excellent news on the staffing front: we have been told by ScotRail of a change in recruitment policy to address the recurring problem of train cancellations due to "crew shortage".
It is now their intention to recruit sufficient train crew so that 'rest day working' is no longer relied upon to provide scheduled services.
As it takes around 18 months to train drivers from scratch this is not an instant solution. For conductors we understand that it takes about 8-12 weeks.
HIGHLAND MAIN LINE - URGENT!
Although FoFNL is the campaign group for improvements to the Far North Line, we are also very aware of the terrible shortcomings of the two lines that feed in from the south.
Although some very welcome work is being done on the busy Inverness to Aberdeen route the Highland Main Line, from Perth to Inverness is in dire need of extensive upgrading to achieve even the modest improvements promised for 2012 by Alex Salmond in 2008.
The enhancements being carried out at the moment are tiny compared to what's required.
Our current magazine carries a detailed article by Richard Ardern which should be a 'must-read' for all Scottish politicians.
Tim's Travels - FNL Video!
We were recently approached by Tim Shearer, an Orkney resident, who has a YouTube channel devoted to his various travels. He told us that on 30 November he made a trip from Thurso to Inverness.
His video is fun to watch and gives an interesting view of the journey, including a lot of shots of train interior details.
On the day Tim made the video he had dirty train windows to contend with. When you're actually on the train you notice that much less, although it's far better if they're clean!
Tim is at pains to point out that he is not a professional film maker - this is a hobby. I think this makes it all the more fun to watch!
On a serious note - we often refer to the fact that the real terminus of the Far North Line is Orkney, and the video is a reminder that the FNL is a great way to travel to and from there.
Please Write to Your MSPs!
Having started the process of asking all MSPs to think very carefully about Network Rail Scotland Route being owned by (effectively), and answerable to, the UK Government instead of the Scottish Government, we are hoping that as many people as possible will take the time to write in support of devolving NR Scotland Route. Each of us in Scotland has eight MSPs that we can write to as individuals - seven Regional 'List' MSPs and our constituency MSP.
My predecessor as Convener of FoFNL, Mike Lunan has written to all eight of his representatives. His letter makes the reasons very clear indeed:
http://www.fofnl.org.uk/archives/Mike-Lunan-Letter-to-His-MSPs.pdf
Please help to get this message across as soon as possible by writing to (preferably) all of your eight MSPs. If you want to check who they are, and how to contact them, use this tool.
Letter to MSPs - Network Rail Devolution
On 6 December this letter was sent to all MSPs to draw their attention to the problems caused to Scotland's railways by Network Rail Scotland Route being part of a GB operation, rather than being devolved to the Scottish Government.
We emphasised that this is not a political question (although Westminster appears to consider it such) but a practical matter and therefore should attract cross-party support.
Strategic Rail Routes Should be a Major Part of the Nation's Future
Letter by Richard Ardern, FoFNL committee member, published in The Herald, 10th Oct 2018
The High Speed Trains which are to be introduced on the inter-city routes north from Glasgow and Edinburgh will give passengers more carriages and a much more comfortable ride. Although capable of 125 mph, the permitted track speeds will limit them to 100mph.
As you reported ("Passengers do not care how old their trains are", The Herald, October 9) delegates to the SNP conference were highly critical of the service capacity on the Highland Main Line to Inverness. On board capacity will be much improved by these refurbished trains, but the £60 Million infrastructure improvements mentioned are only a small step towards improving the track capacity to prevent trains having to wait in loops to access the next section of single track when another train is coming the other way.
Without wishing to be too political, we might remember that the sanctioned enhancement spend on the line for 2014-2019 was up to £120M, double what is actually happening. The Strategic Transport Projects Review in December 2008 put the line as third priority after the Queensferry Crossing and the Edinburgh-Glasgow [rail] Improvements Programme. Now EGIP is nearing completion, it is high time to deliver a modern strategic railway to the north. As the Scottish Chambers of Commerce said in April 2016 "a connected economy is a successful economy" such that "single track railways linking Inverness, Aberdeen and the Central Belt are unacceptable in the 21st century". The superb Airdrie to Bathgate line would be a standard to aim for.
The problem now for the Government is that money is getting ever tighter and other claims such as replacing vessels for Caledonian MacBrayne are also getting more urgent. This is compounded by the denial of geography which is affecting HM Treasury this year and resulting in them allocating railway monies on a crude per capita basis rather than, as hitherto, by need. Scotland's railways have been denied some £400M through this.
Underlying all this is yesterday's electrifying report from the United Nations Intergovernmental Panel on Climate Change suggesting that we only have 12 years in which to avoid a catastrophic environmental breakdown. Despite good work on energy emissions, Scotland's transport emissions are still going up. It is essential that we put more effort into sustainable transport. Strategic rail routes within Scotland should be a major part of that.
Is Scotland On the Right Track?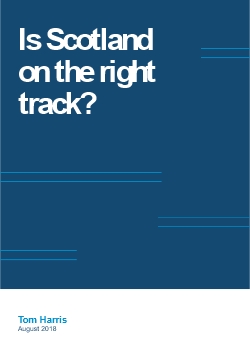 A report entitled "Is Scotland On The Right Track?" was published on 13 August. Commissioned by ScotRail franchise holder, Abellio, research for the report was carried out independently.
The writers of the report, former UK Transport Minister Tom Harris and Mark Diffley Consultancy and Research, employed ScotPulse to conduct a survey of 1,063 people, the results of which are central to the report.
It's well worth having a look through this; the section about the current situation of Network Rail, in relation to the rest of the railway provision in Scotland is particularly interesting.
The majority of those surveyed would like to see Network Rail Scotland Route, which is currently simply a division of Network Rail, and therefore under the ultimate control of the Department for Transport, devolved to the Scottish Government, which already pays it for its work in Scotland.
Scottish Grand Tour
ScotRail is offering a spectacular one-way circular tour of Scotland using trains (The West Highland Line, The Kyle Line, the Highland Main Line and between Edinburgh and Glasgow), ferry between Mallaig and Armadale on Skye and coach between Armadale and Kyle of Lochalsh
You get to travel on two of Scotland's most scenic railways, plus a visit to Skye!
This allows four travel days, with unlimited breaks in journeys, the whole circle to be completed within eight days.
The cost is £89 and normal Standard National Railcard discounts apply, EXCEPT for the Glasgow or Edinburgh Days Out travel pass. There's a 50% discount for children aged 5-15 and under fives travel free.
You can start and finish the tour at any point on the route.
Although you are free to travel almost whenever you wish, you must stick to one direction once you have begun your trip.
The only time restriction is that journeys on the Highland Main Line and Glasgow-Edinburgh must commence after 09:15.
This is also what railways are for!
FoFNL campaigns for all use of the Far North Line. Subsea 7 (see article in last January's magazine) is having pipes delivered this summer to Georgemas Junction, where they are transferred to lorries for the last few miles of their journey.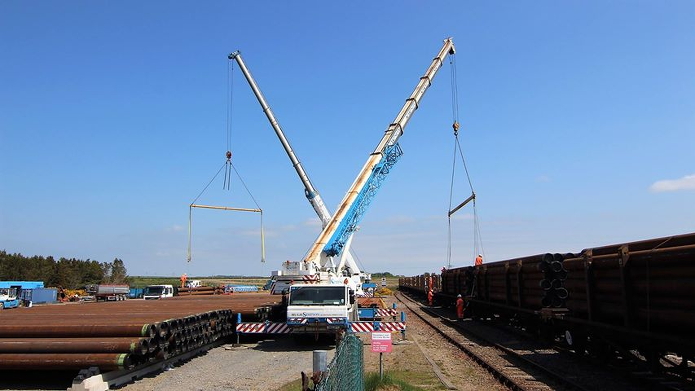 This kind of scene would be common on railways if politicians would follow up on policy pledges and work harder to encourage the shift of freight onto rail. This will require some infrastructure work on the FNL, e.g. the Oykel Viaduct has a weight limit which needs to be increased. Currently, because the line is single track throughout with very few, and often too short, passing places, there is a shortage of available paths for freight trains.
The only people who think it is better to transport freight by road are those who make money from doing so. The UK and Scottish roads and haulage lobbies are wealthy and presumably have much influence politically. There is no other explanation for the counter-intuitive preference for transporting freight by road.
Obviously there will still need to be road vehicles to move goods from railheads to destination.
A classic example of this in practice was the Safeway trains of some years ago. It's hard to understand why Morrison's did not continue those trains. Perhaps it is that in this country cheapness trumps every other consideration. Yet that is why we have politicians - to do what's best in every way.
First of This Year's Subsea 7 Pipe Trains
On 23rd May the first consignment of pipes for the Subsea 7 fabrication plant near Wick ran from Hartlepool to Georgemas Junction.
Here is a video of the train leaving Brora.
After a Press Release from FoFNL expressing hope that Virgin Trains East Coast and/or their successors LNER will help to ensure that passengers travelling down to Inverness on the ScotRail 06:14 from Ardgay, which provides a 12 minute connection into the 07:55 Highland Chieftain to Kings Cross, this article appeared in the Press & Journal on 25 May.
Passenger perception, we hear, is that people from Ardgay southwards intending to travel on the Highland Chieftain don't really trust the Far North Line service. Knowing that VTEC will not hold the train to allow a connection when the FNL train is late many resort to other means to get to Inverness. An assurance from VTEC/LNER that will promise to hold the train for five minutes would be very welcome.
However, we've had a look at this year's record for the 06:14 ex Ardgay. We found that of 120 runs, two were cancelled and three were more than 2 mins late. Only two would have missed the connection completely.
It's a shame that the FNL's poor record for timekeeping is now stuck in travellers' minds, even though it is now miles better. If you know anyone who is not using the FNL because of this please let them know that things have improved dramatically.
North Needs Rail Links Fit for 21st Century
This piece by John Finnie MSP appeared in the Inverness Courier on 4th May and is reproduced with permission.
Last week while down in the Central Belt as part of my normal working week, I took the opportunity to nip along to Coatbridge and visit the Freightliner Rail Freight terminal.
A single freight train can carry enough material to build 30 houses and while it's good to see the likes of Tesco and Diageo utilising rail to carry goods to and from the north, many businesses are missing out on opportunities to switch from road to rail, simply because the single track Highland Main Line simply does not have the capacity to cope with any significant increase in freight traffic.
Those who regularly travel to the Central Belt by train will understand the potential for major disruption to journeys as a result of extremely limited capacity. While I am pleased that the Scottish Government has recently announced a modest £10 million investment to improve the Highland Main Line, I fear it will amount to little more than tinkering, rather than the serious improvements that are needed.
Time and again we see major investment in trunk roads, with billions splashed on projects which continue to prioritise the motor car. The government trumpets City Deal projects, which are all too often just glamorously titled road building schemes.
I cannot imagine a project that would be more transformative for the Highlands than the dualling of the Highland Main Line. Every tonne transferred by rail, rather than road, cuts CO2 emissions by 76 per cent. Dualling the Highland Main Line would be of huge benefit to the climate and could take between 250 and 300 lorries a day off the A9, which would make our roads safer and reduce repair bills.
Increasing capacity on the Highland Main Line would also offer exciting opportunities to greatly improve journey times between the Central Belt and the Highlands. I am confident this move would be widely welcomed, particularly by businesses who could engage with their counterparts in the Central Belt much more conveniently.
The tourism sector is of course vital to the economy of the Highlands and Islands and ensuring that we have rail links fit for the 21st century would greatly improve the appeal, encouraging many more visitors to the north.
Further improvements to the Far North and West Highland lines would enhance this further of course. But as the main rail route to and from the Highlands, we simply can't afford to continue waiting, we need to dual the Highland Main Line now!
Although FoFNL doesn't actively campaign on railway matters outwith the Far North Line, this route is vital for passengers and freight travelling to the line. All MSPs should read this and THINK!
Brora and District Action Group, the village Development Trust, has just been given permission by ScotRail to brighten up the hoardings on Brora Station with some community inspired artwork. The members are currently developing ideas and gathering funding for this project. This is in addition to the ongoing improvements they are carrying out to the planted areas of the station, with a delivery of additional planters expected in May.
You can visit the BaDAG Website to find out more about the group.
At a ceremony on Friday 13th April 2018, organised by FoFNL member Frank Roach, a plaque to commemorate the 150th anniversary of the opening of the Sutherland Railway (part of the Far North Line) from Bonar Bridge (now Ardgay) to Golspie, was unveiled by Lord Strathnaver.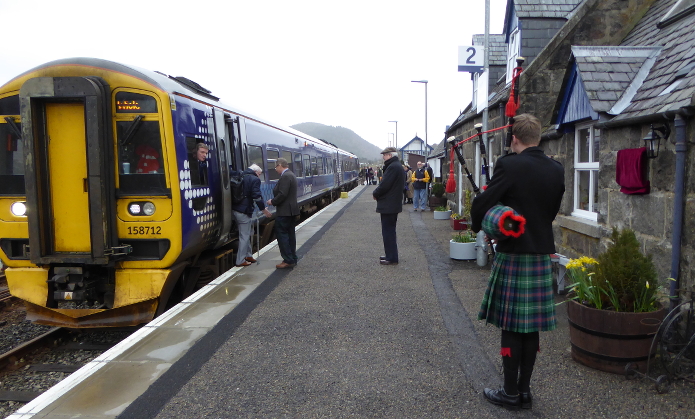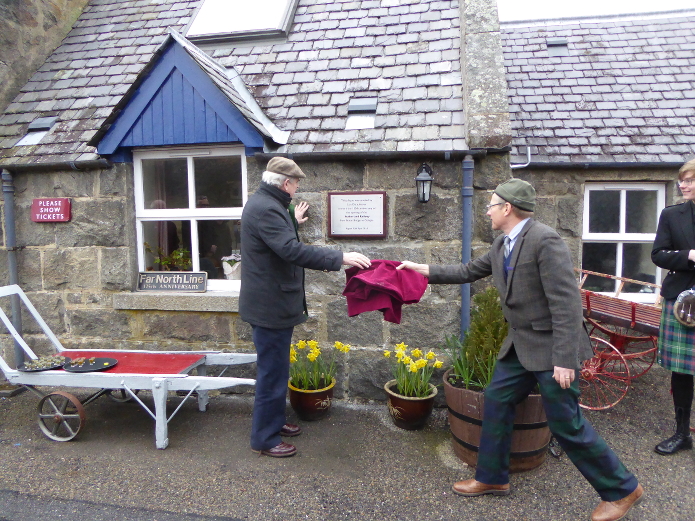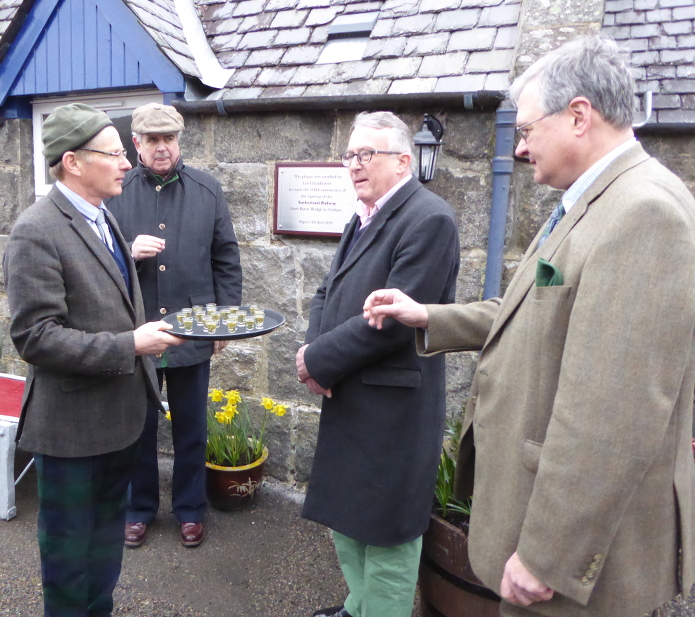 Photos: Richard Ardern
It was another six years before the line reached Thurso and Wick with huge financial help from the Duke of Sutherland.
Friday 13th April 2018 marked the 150th anniversary of the opening of a significant stretch of the Far North Line from Bonar Bridge (now known as Ardgay) to Golspie.
This section of the line was authorized on June 29th 1865 (from Bonar Bridge to Brora).
It was a very expensive project with major engineering challenges, including the bridge over the Kyle of Sutherland, the Oykel Viaduct, and rock cuttings near Lairg.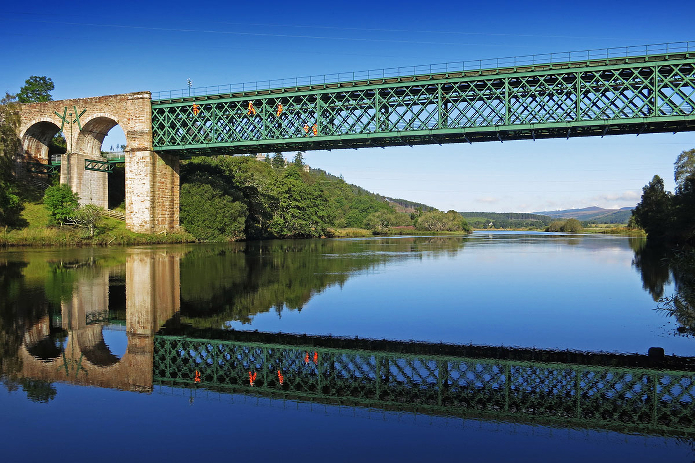 The new railway as far as Golspie opened on April 13th 1868 and was 26 miles long.
In spite of £15,000 of assistance from the Highland Railway the promoters of the Sutherland Railway couldn't afford to continue the line any further. A new Act of Parliament was passed on June 20th 1870 which transferred the powers to build the remaining 6 miles, and gave powers for the extension to Helmsdale. The Duke of Sutherland took over construction, and services, provided by the Highland Railway, commenced on June 19th 1871. The final section of the Far North Line to Thurso and Wick opened on July 28th 1874.
The Beast From the East Reaches Forsinard
or 'Frozenhard' as someone responsible for FNL snow clearing used to call it!
The very heavy snowfall which affected most of the UK last week made for some amazing pictures!
These photos were taken by Jonathan Ford from the Flows To The Future Project based at RSPB Forsinard.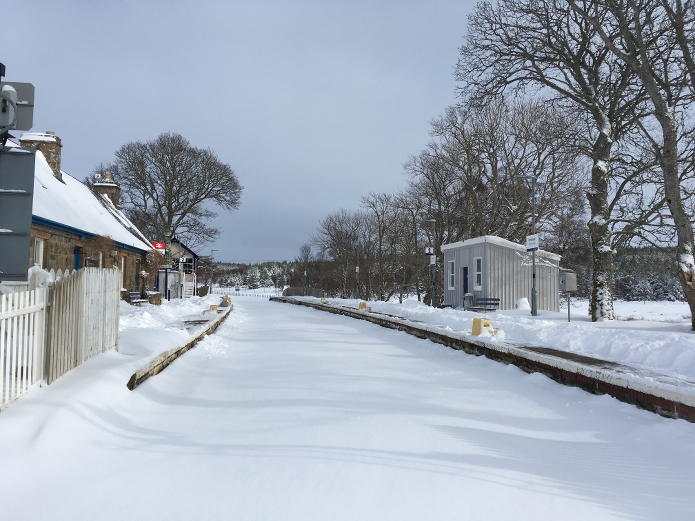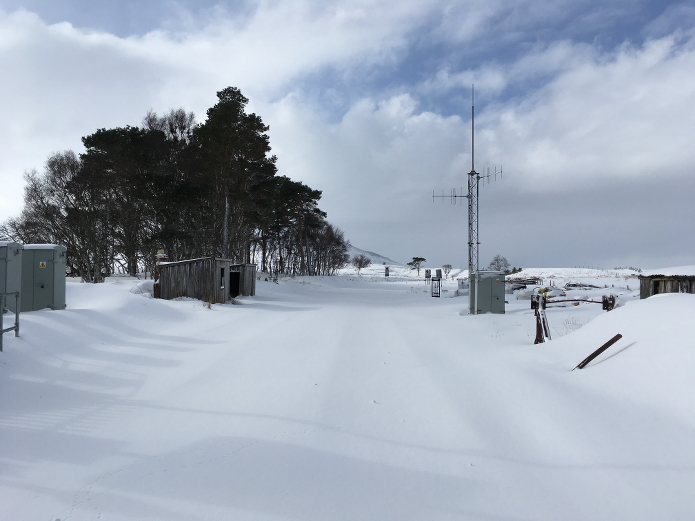 January Newsletter
The January newsletter has been online for a couple of weeks.
As always this is where I mention that if you were a member you would have received this edition of Far North Express in January and not have had to wait a few weeks until it's published here. In any case, a hard copy of the magazine is always better than the online version!
Plus by joining you would be helping to strengthen our arguments even more for the work that needs to be done on the line.
P&J Letter About HML
26 February 2018
Although FoFNL exists to campaign for improvement on the Far North Line, we obviously have very strong views about the lines south of Inverness. The following letter appeared today (26 Feb) in the Press & Journal. It encapsulates a fact that we frequently mention - for some reason it seems that although Scottish Government policy is to encourage the use of public transport, it can't stop itself from putting road building first. It is extraordinary that one of Scotland's cities should have all four railways that radiate from it being single-track with passing places. Imagine if all the roads were the same!
Here's the letter:
TIME TO 'DUAL' THE RAILWAY TRACKS TOO
Having just arrived in Inverness on the excellent overnight sleeper from London, it seems ironic that our train and its many passengers were held on two of the several passing loops - at Kincraig and Tomatin on the now mainly single-track section - awaiting southbound trains. If many millions are going to be spent on dualling the A9, which will simply encourage more road traffic, surely a few million more could be spared to dual some of the railway to keep passengers and freight on the tracks. And a second track, where there's room, takes less space than a whole new two-lane carriageway.
John Davis,
Harpenden, Herts
Review Team Latest
18 February 2018
Things are really looking up on the Far North Line!
Last week's punctuality figures were the best since our records began. Although the PPM figure, which is percentage arrivals within five minutes, was down slightly, it was still 94%; actual on-time or early figures were 93% northbound and 87.5% southbound. Bearing in mind that our first recorded figures, for the week beginning 31-10-2016, were PPM: 46.9%, northbound and southbound on time arrivals: 18% it is clear that huge improvements have been made.
Last Friday two FoFNL representatives, Mike Lunan and Ian Budd, attended the FNL Review Team meeting. The RT was set up at the end of 2016, on the instruction of Fergus Ewing, Cabinet Secretary for the Rural Economy and Connectivity, to shine a light on the problems the FNL was experiencing. The team was to look at, and work out necessary action to remedy, the causes of existing problems along with developing plans to improve the service and the railway itself in the future.
The meeting's purpose was for the various parties to report what has been achieved and is about to be implemented. Very detailed information was presented by Network Rail. Key points were:
The doubling of permanent lineside staff to tackle the massive job of clearing overgrown vegetation and securing or replacing fences. This will provide 9 more jobs, of which 6 will be based at Helmsdale.
A technical change to the signalling system which will allow much greater flexibility at the southern, busier, end of the route.
Work being undertaken to increase the speed at which passing loops can be traversed.
Work completed on level crossings which has also resulted in linespeed increases.
It was reported by ScotRail that 2017 saw a 7% increase in FNL passenger usage. HITRANS is working on an electronic system to enable passengers wishing to board the train at a request stop to communicate their presence directly to the train. This will allow trains to pass through at a higher speed when there are no requests.
Some of these improvements will make the present timings more realistic, thereby improving punctuality, and some will result in reduced journey times. Unfortunately the next timetable change, due in May, may not be able to reflect these improvements due to the lead time required by timetable planners, if not, they will appear in the December 2018 timetable.
The RT's discussions about future enhancements feed into the CP6 'pipeline' process where decisions about the allocation of money between 2019 and 2024 are made. FoFNL is very optimistic that a passing loop will be added between Inverness and Dingwall in this period.
I hope this conveys how strong Transport Scotland's support is for the FNL. They are spending a lot of effort and resources on improving it, which bodes well for its long-term future.
158 at Scotscalder 20th Feb 2018
Saw this picture today and really liked it!
It was taken by Felix Saward who has a blog called Least Used Stations. He very kindly gave me permission to reproduce it here.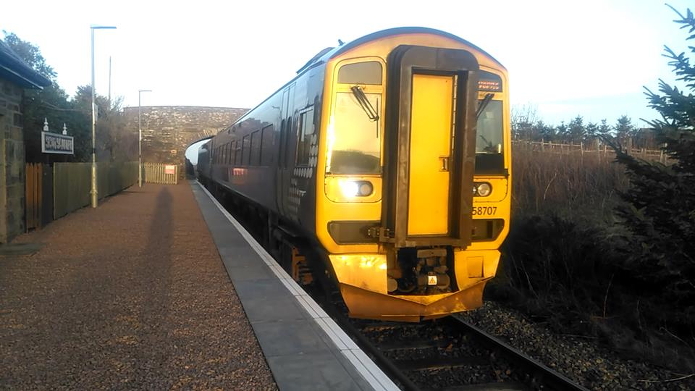 FoFNL wins a Railfuture Gold Award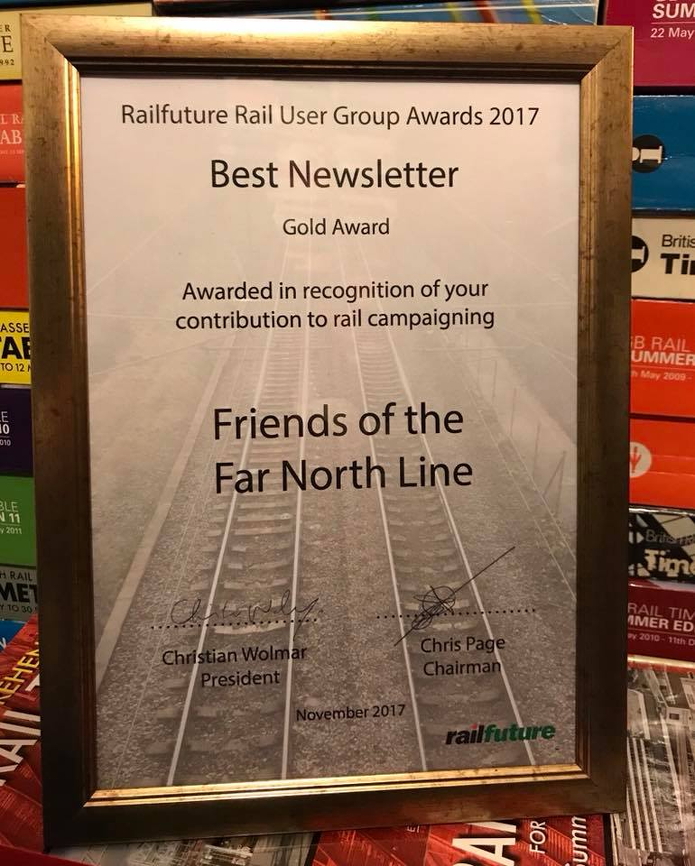 At the Railfuture Conference in Leicester on 4 November our newsletter/magazine was given the RUG Best Newsletter 2017 Gold Award.
We are one of many Rail User Groups in the UK so we were delighted to receive this recognition.
Our newsletter contains articles and news about our campaign along with a mix of other items of interest, rail-related (loosely sometimes!), often historical. Complementary copies go to a wide range of people such as MSPs and the press, as well as key people in the rail industry.
The award was presented by Christian Wolmar, Railfuture President, to Gavin Sinclair, FoFNL member and former secretary.
We hope that the double track on the certificate is a subliminal reference to the Scottish Government's pending announcement about rail improvements to be carried out in CP6 (Control Period 6)!
We would like to congratulate our colleagues at the Tarka Rail Association who also received a Gold Award.
Facebook
FoFNL now has a page on Facebook.
We are hoping our page will stimulate interest in what we do and the Far North Line in general. Please have a look at our page, like it (if you do!) and share it with your friends.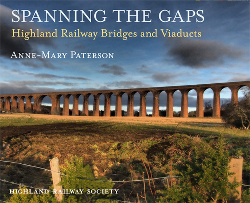 Spanning the Gaps
By Anne-Mary Paterson
The Highland Railway Society has published a book about the rail bridges on the Highland Railway.
Given the rugged terrain that it crossed the Highland Railway did not lack for remarkable bridges over the many water courses and defiles along its route. Anne-Mary Paterson once more gives us the benefit of her extensive knowledge and research to give an interesting and comprehensive overview of these structures many of which are still part of the fabric of the present system. The book is fully illustrated on glossy art paper and may be purchased at good bookshops for £16.00 or from the Society for £18.50 by post. It is available to members for £10.00 (or £12.50 by post).
ISBN 978-0-9927311-1-3
Audio Guides to the Far North Line
The Scottish Natural Heritage website used to carry some excellent audio guides to the Far North Line. They were in MP3 format and were ideal for listening to on the train.
We now have them hosted on our site.
Window Gazer's Guide
If you are travelling along the Far North Line you might like to enhance your journey by downloading our guide, written by Richard Ardern, one of our committee members and very prolific article writer for Far North Express!
The Guide is in .pdf format so you will be able to follow it on any smartphone or tablet.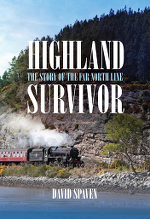 Highland Survivor, The Story of the Far North Line, wins Award!
David Spaven's new book, Highland Survivor: the story of the Far North Line was launched on 21st September 2016 and has now won the 2017 Railway Book of the Year award from the Railway and Canal Historical Society.
It's hard to imagine that anyone reading this wouldn't want to get their hands on a copy straight away, especially if they have recently read David's book, Waverley Route: the Battle for the Borders Railway. The Story of the Far North Line is a great read and explains exactly how the Far North Line has arrived at this point in its history
Price: £16.99
Published by Kessock Books
Also available from:
Waterstones, Eastgate Shopping Centre, Inverness
Picaresque Books, 55 High Street, Dingwall
Friends of the Kyle Line
We've had a request from our colleagues at the Friends of the Kyle Line who ask:
Would you have any member in Dingwall or Inverness who could work part time for our Charity selling Kyle Line maps @ £10 per hour. Daily 10-2?
Review Team
At the Rail Stakeholder Conference on 16 December Fergus Ewing, the Scottish Government's Cabinet Secretary for the Rural Economy and Connectivity, announced he has instructed Transport Scotland to set up a Review Team to look at the Far North Line in detail and come up with a suite of actions. The team consists of Abellio ScotRail, Network Rail, HITRANS and FoFNL.
This is a major step towards achieving necessary improvements including the installation of the Lentran Loop.
The Review Team's work is now in full swing.
FoFNL Commissions In-depth Report into the FNL
FoFNL has commissioned Tony Glazebrook of Aliona Ltd to carry out a detailed study of the Far North Line.

Tony was given full access to the line during the first week of October, including a full-length journey in the cab of a service train, the best position to see the state of the infrastructure.
Phil Verster, Managing Director of the ScotRail Alliance, ensured that Tony had full access to the railway and the operational staff. This enabled a comprehensive review of the difficulties the line has been experiencing.
FoFNL Convener Mike Lunan commented, "FoFNL has made its views known to politicians and funders for many years: this Report will allow us to be more focused and evidence-based, and we record our gratitude to its author, Tony Glazebrook."
The full report is available here.
Scottish Golf by Train
If you're interested in golf, and if you're not, you'll find Scottish Golf by Train well worth a look. It is packed with information about over 400 Scottish golf courses with all the information you need to reach them by train. Can't help thinking that someone will want to attempt the complete collection!
It is lamentable that you currently need to change onto a bus for the last five miles of your journey to the Home of Golf. Campaigners in St Andrews are working hard to rectify that.
Viewhill House Inverness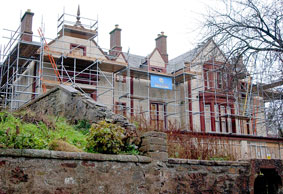 FoFNL has been asked to lend its support to a project to restore a large house in Inverness. The house was designed by and built for Joseph Mitchell who was a civil engineer and surveyor responsible for many Highland and Far North projects, including, on the Far North Line, Tain Station and the Oykel Viaduct.
The proposal is to convert the house to flats and to include a small museum showing Joseph Mitchell's work.
Have a look at the Highland Historic Buildings Trust for full details.
Thought For The Day
T his should really be a thought for every day for government ministers, politicians in general and commentators on railway matters:
Single track railway with passing loops = single track road with passing places (in the case of railways such as ours it is many miles between passing places - on the roads they are every few yards to avoid inconvenience).
Double track railway = single carriageway road.
Quadruple track railway (e.g. West Coast mainline out of London - rare in UK) = Dual Carriageway.
Conclusion:
In road terms the four rail routes out of Inverness are all single track roads with passing places apart from a 30 mile stretch of "single carriageway" north of Blair Atholl.
Interesting that work has now begun on the Perth-Inverness section of the A9 to widen it to the rail equivalent of four tracks.
If you have any comments or require any information please contact FoFNL by
E-mail
Welcome to the Friends of The Far North Line
The Friends of the Far North Line is the campaign group for rail north of Inverness, lobbying for improved services for local users, tourists and freight.
Our website will give you an insight to FoFNL's successes and concerns. You will find a complete collection of newsletters dating back to 1998 as well as an archive of interesting documents.
This is a map of the Far North Line which is situated in the northernmost part of Scotland. Hovering the pointer over the name of a station will display a local photo.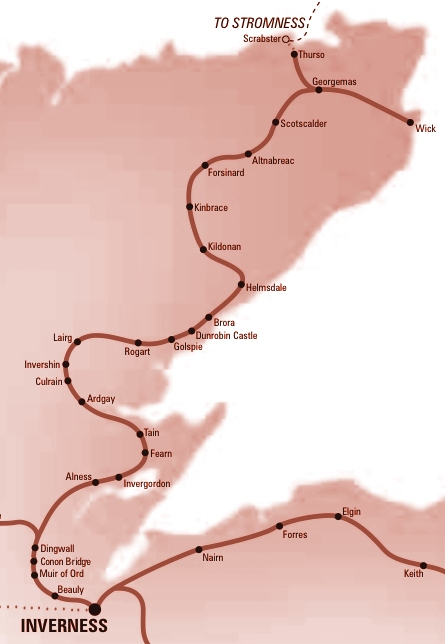 Our aims include:
The continued retention and improvement of the line from Inverness to Wick/Thurso.
The development of services for local residents and tourists alike.
Enhancement of freight services.
Publicising the line, its attractions and potential.
Liaison with local groups to foster interest in the line.
Liaison with ScotRail, statutory bodies and tourism authorities.
The use of the line by heritage trains.
Our 1995 conference for rail interests was the precursor of the Highland Rail Partnership a collaborative body spanning the Council, Highlands and Islands Enterprise, local Enterprise companies, rail operators, the Friends Groups and others.
Achievements include the Easter Ross commuter train, Beauly and Conon Bridge stations, all-year Sunday trains, initiating the re-introduction of significant freight, the transporting of extremely long lengths of pipe to Wick, and the building of a footbridge alongside the Shin Viaduct. A substantial increase in freight is still needed and we will continue to persuade haulage contractors that there is an alternative to driving long distances over inadequate roads.
We continue to seek shortened journey times and hourly services between Inverness and Tain. We aim to work in partnerships, we publish a thrice yearly Newsletter, we are democratically governed through our AGM and a geographically representative committee.
---
Join...
If you would like to join The Friends of The Far North Line please download, print out and complete the application form. If you prefer, you can phone our Membership Secretary on +44 (0)1334 475311. Annual membership is only £15.00 (£12.00 if you set up a standing order) for individuals and £17.00 for corporate or organisation membership.
---
Office Bearers
John Finnie MSP
Rhoda Grant MSP
Gail Ross MSP
David Start
29, Ethelwulf Road
Worthing
BN14 7NF


Angus Stewart
36 Learmonth Place
St Andrews
Fife
KY16 8XF


Richard Ardern, Inverness
Mike Lunan, Thurso
Iain MacDonald, Alness
David Spaven, Edinburgh
Malcolm Wood, Ardgay
The photo of Culrain station was taken by Peter Van Den Bossche and the photo of Altnabreac by Dennis Troughton. Both are used under the Creative Commons Licence.