TOPICAL MATTERS and NEWS
SAPT Meeting, Inverness
The Scottish Association for Public Transport is holding a public meeting in Inverness on Thursday 2nd November at 13:45.
There are three speakers, including our secretary, Neil Wallace and our founder, Frank Roach of HITRANS.
A discussion on rail and bus provision in the Highlands will follow. This will be an interesting occasion and everyone with an interest in public transport is welcome to attend.
Full details on the flyer.
Posted 30-10-23
Highland Railcard News
In response to a question from a member of FoFNL, we now know that the new Inverness Airport Station is included in the areas covered by the Highland Railcard.
The wording on the ScotRail website hasn't been changed yet, but ScotRail sent us this revised version:
This is excellent news, making the Highland Railcard even better. For anyone living in the Highland areas covered who doesn't already know about this card, it offers a spectacular 50% off all tickets for journeys on the Far North, Kyle and West Highland lines, along with the chance to be accompanied by one or two children under 16 for £2 each. This is probably ScotRail's most generous offer.
Posted 23-10-23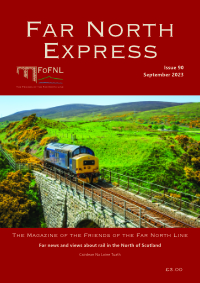 September Far North Express
The September edition of our members' magazine, Far North Express, is arriving in their hands this week.
This 36-page edition contains the usual mix of opinion, news, reports and articles about matters which have a connection with the Far North Line, present or past. Our magazine is used as a campaigning tool as well, with around 150 copies being sent to people in the rail industry in Scotland, politicians and the media.
This is where we hope non-members reading this will think, "Hmm, I could join..."
In common with all voluntary organisations like ours, our age profile is quite high. In many ways this is an advantage because of the general experience it brings. However, we really do also need some younger members so if this is potentially you...
We have members from all over the UK but it would be especially useful to increase the number of members who live near the Far North Line - again, if this is you...
Joining is really easy as you can pay instantly with PayPal if you wish on our joining page.
Posted 11-09-23
FoFNL AGM & Conference
Our annual Conference took place yesterday in Timespan, Helmsdale. We had three excellent speakers - Chris Gibb, first CEO of Scottish Rail Holdings; James McCafferty from Stadler and Martin Bignell, Scottish and Northern representative of the Rail Freight Group.
The three speakers were very well received and their slide presentations will be uploaded soon.
Timespan proved an excellent venue and we all enjoyed visiting Helmsdale in beautiful weather.
Posted 24-06-23
Good news!
Far North Express 89 finally arrived on Friday and was posted out to members, rail industry officials and MSPs on Saturday.
Interestingly, it was the original consignment that turned up after being in transit from Dundee for about a fortnight.
We now also have the reprinted copies - lots of spares!!
Posted 04-06-23
"Let's Make a Trip" on the FNL
Here's a fine video of a trip from Inverness to Thurso - it's made by Mark Swain for his "Let's Make a Trip" YouTube channel.
He chose a fabulous day for the trip so you can see the view from the train in all its glory!
Posted 26-05-23
Far North Line Community Rail Partnership
FoFNL congratulates all those involved in the successful setting up of the new Far North Line Community Rail Partnership which was announced last night at the Scottish Parliament.
We see the FNL CRP as complementary to the Friends of the Far North Line and we will be working together on issues which overlap.
We hope that the CRP is able to draw in voluntary involvement at a local level in the same way that the Highland Main Line CRP has been able to do. FoFNL has a different function - we are independent lobbyists and concentrate on infrastructure and rail services, whereas the new FNL CRP will be involved in the promotion of the northern part of the line in relation to the communities it serves.
Posted 25-05-23
Save Maggie's Bridge
Please forgive us for posting about something a long way away from the Far North Line.
This wonderful little bridge is over the Monkland Canal in the Central Belt. It was built in 1794 and is a rare surviving example of 18th Century engineering. It was a waggonway crossing - waggonways being the direct ancestors of railways
Things like this sometimes seem small and insignificant to planners but contribute enormously to our enjoyment of where we live. This is an amazing survivor and deserves to be saved.
A petition has been started by eminent railway historian and author Ann Glen - please sign!
Posted 08-05-23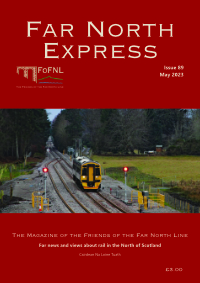 FoFNL Magazine Backnumbers
As you will see, on your left there is now a permanent menu item pointing to the page where you can purchase backnumbers.
This is a good moment to mention that our May magazine is at the printers and will be in members' hands soon. If you are not already a member, this would be a good time to join, with the new magazine imminent and our AGM & Conference coming up on 23 June.
Don't forget new members receive a complimentary copy of our 25th Anniversary Book while stocks last.
This issue contains the usual interesting mix of articles and covers both passenger and freight issues. The latter is especially important to us since the Far North Line is a railway waiting to play its part in the transfer of freight from road to rail which is Scottish Government policy.
As you will find if you read the magazine, we have a lot to say about the current struggle between those who still wish to spend very large sums on road building, and those trying to enact official government policy.
Posted 05-05-23

Transform Scotland in Inverness
Transform Scotland is hosting a Zero-Carbon Public Transport Summit in Inverness on Monday 26 June from 13:30 - 16:30 at the Spectrum Centre.
Transform is Edinburgh-based and holding an event in Inverness represents Transform's wish to emphasise that sustainable transport concerns affect all parts of the country.
Posted 04-05-23
REGIONAL TRANSPORT STRATEGY ONLINE SURVEY
HITRANS is producing a new Regional Transport Strategy (RTS) covering the Eilean Siar (Western Isles), Orkney, Highland, Moray and most of the Argyll and Bute Local Authority Areas.
An important part of the process is the offer to obtain views and feedback on the Draft Case for Change Report prior to progressing to Stage 2. There is an online survey which FoFNL urges you to complete. We hope it will be used by a large number of people to highlight the shortcomings of rail provision in the Highlands.
The survey will remain open until Monday 8th May.
Follow
this link
to read the draft report and take the survey.
Posted 29-03-23
FoFNL AGM & Conference
Our AGM & Conference will take place in Timespan in Helmsdale on Friday 23 June.
The Conference will begin at 11:15 and is a public event - all are welcome.
Our speakers this year are Chris Gibb, who was the first Chief Executive of Scottish Rail Holdings, the arm's length company which oversees ScotRail; Martin Bignell, who is the Scottish and Northern Representative of the Rail Freight Group; and James McCaffery, Programme Lead, Stadler Rail Services UK. As always Frank Roach will update us on the work of HITRANS.
We are looking forward to a wide range of rail topics, from hearing about the change to public ownership of ScotRail, possibilities for freight on our line and the Highlands in general, to an insight into questions of train design.
Posted 27-02-23
Imagine...
There is much talk in the press and in Holyrood about the A9. FoFNL would like to remind our readers about the parallel railway which hardly gets a mention in the press. Here is page 5 of a pamphlet we sent to all prospective MSPs before the 2021 election.
The whole pamphlet can be read here.
Posted 13-02-23
Level Crossing Incidents
A car presumably drove through red warning lights onto a level crossing and was struck by a train yesterday between Inverness and Nairn. Fortunately no-one was injured. [EDIT - this is in fact a "POGO" - Power Operated Gate Opener crossing, i.e. user-operated. These crossings are protected by colour lights and a large instruction screen is provided.]
The BBC website reported this as "Rail services between Inverness and Nairn have been disrupted after a car was struck by a train on a level crossing." We think that unintentionally implies that the train was somehow at fault.
A better default wording would be, "A car drove through red warning lights onto a level crossing and was struck by a train."
Obviously that wording wouldn't be used in the unlikely event of a car breaking down and stopping on the track whilst crossing when the barriers were up.
Posted 01-02-23
Inverness Airport Station
Two items about the new station appeared in the Inverness Courier on 6 December.
Posted 06-12-22
Far North Express
Our September issue has been in the hands of our members for several weeks. It can now be read in a web version on our website.
This issue contains reports of our AGM & Conference in Dingwall in June. There are some thought-provoking articles too concerning future rolling stock, and integrated transport as it should be done in Scotland but isn't. There is a review of Adrian Shooter's book about running Chiltern Railways, which contains many salutary tales, and a look back with memories of Scotland's youngest stationmaster.
If you'd like to receive three copies of FNE per year at no extra charge, and support FoFNL into the bargain, please head to our joining page where you can join instantly using PayPal, or of course more traditional methods are accepted too. New members receive a complimentary copy of our 25th Anniversary Book while stocks last.
Posted 29-10-22
2022 Conference - David Simpson Slides
For those who missed our AGM & Conference on 17 June, or would like an opportunity to see them in detail, here is David Simpson's presentation and notes. David is ScotRail's Service Delivery Director.
Posted 11-07-22
Dunrobin Locomotive
With the recent Centenary+1 event at Helmsdale commemorating the 1871 opening of the "Duke of Sutherland's Railway", one might wonder if there is any news about the second of the two locomotives owned by the Dukes.
Dunrobin is currently being restored at Beamish and at the Severn Valley Railway. The Beamish Museum Blog carried an article in 2021 marking the 10th anniversary of the locomotive's arrival there.
Posted 04-07-22
FoFNL AGM & Conference 2022
Great to report that our 2022 AGM & Conference was a success in spite of all the rail problems. We had over 50 attendees who heard excellent talks from Kate Forbes MSP, Matt Powell of Network Rail and Phil Sherratt, editor of Modern Railways magazine.
We now know for certain that NR is to build the passing loop we've been campaigning for for years. The Delmore Loop, near Inverness, should be opened in 2024 and will go a long way to resolving the difficulties caused by late-running trains on the busier section shared with the Kyle Line.
David Simpson from ScotRail was also due to give a presentation but was called back home en route to Dingwall because of a family emergency (all is OK now). Luckily we had his slides with us and were able to give a simplified version of his talk - lacking David's enthusiastic delivery unfortunately!
Our thanks also go to the National Hotel in Dingwall which hosted the event. The present owners have only been in charge since March and have already transformed the hotel. The staff and owners could not have been more welcoming and helpful - nothing was too much trouble.
Posted 21-06-22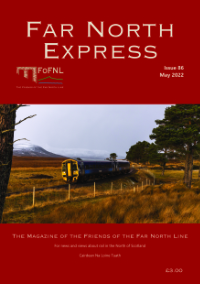 Far North Express
Our May issue has now been published and is on its way to our members. It will be added to our website as always, a month after publication.
This issue contains our reactions and official responses to the publication of the STPR2 Draft Report at the beginning of this year.
If you'd like to receive three copies of FNE per year at no extra charge, and support FoFNL into the bargain, please head to our joining page where you can join instantly using PayPal, or of course more traditional methods are accepted too.
New members receive a complimentary copy of our 25th Anniversary book while stocks last.
Posted 24-05-22
AGM & Conference 2022
Our 2022 event looks set to take place as planned on Friday 17 June. The venue is the National Hotel, Dingwall, which is close to the station.
Our speakers will include David Simpson, Service Delivery Director, ScotRail; Phil Sherratt, Editor, Modern Railways; and a Network Rail sponsor of current work on the Far North Line.
The AGM will take place at 10:30 followed by the Conference at around 11:15, which is also open to members of the public.
We very much hope that many FoFNL members are able to attend. The National Hotel has kindly offered a special rate for attendees of £85 per night. If you wish to take up this offer please phone 07377 355807 letting them know that your are attending the event.
Posted 12-05-22
Personalised Pocket Timetables
ScotRail has just told us about an excellent feature on the National Rail Enquiries website, it's called Pocket Timetables and it will produce a custom timetable which you can read, or download as a .pdf file, containing journey information in four hour slots for outward and for return journeys on the day(s) of your choice.
The page can be found at https://ojp.nationalrail.co.uk/service/pockettimetable/search
For something so useful it is extremely well hidden. If you did not know about it you probably wouldn't stumble across it. If you knew it existed and tried to find it yourself you would have to start at the National Rail Enquiries home page, then near the bottom of the page in a box choose "Travel Tools & Alerts", which takes you to a page headed "Travel Tools". You would then need to click on "Timetables" in the little box called "Related Links" which takes you to a page called "National Rail Timetable" and there at last is a yellow button labelled "Get your Pocket Timetable"!
Now that ScotRail does not produce timetables showing connections (and has no plans to do so) it is difficult to plan a journey involving a change. For example, Tain to Elgin involves two timetables and this facility makes it really easy, showing the change required, the times at Inverness and the journey duration.
Since writing the above ScotRail has informed us of another website that offers a similar service, with whole day's timetables being given. This is Swiss Railways page:
https://www.sbb.ch/en/timetable/online-timetable/pdf-timetables/personal-pocket-timetable/download.html
Open Letter to The Highland Council
Since the initial press release from The Highland Council instructing the Scottish Government not to reduce its commitment to dualling the remainder of the A9 between Inverness and Perth and the A96 which we reported on in our September magazine - The Highland Council on the Wrong Side of the Road there have been several more exchanges in the Highland press.
An article on 1 October in the Press & Journal concerning the release of road casualty figures for the Highlands, prompted The Highland Council to step in again, demanding the full dualling of the roads. We could not let this pass unchallenged as expanding road provision is the wrong priority as we tackle climate change.
On 12 October we sent an open letter to the council and the following day issued a press release saying that we had done this.
Our aim is to promote discussion and to persuade The Highland Council to take the urgent need for investment in Highland railways seriously. In the run-up to COP26 it is surprising to see the council so unaware of what's needed.
We have since had a meeting to discuss how the council can improve its support for rail in which we were assured that THC is very aware of the shortcomings of raiulways in the Highlands and supports any initiative to improve them.
Dunrobin - Ten Years On
This year marked the 150th Anniversary of the opening of the Duke of Sutherland's Railway (Golspie to Helmsdale).
Unfortunately there wasn't enough space in the next issue of Far North Express, which is at the printer at this moment, to include a hoped-for catch-up about the Fourth Duke's 1895 locomotive which is at Beamish under restoration after spending many years in Canada.
We will cover this in the future, but in the meantime here is the Beamish blog from May 2021 marking ten years since Dunrobin's return.
New Scottish Government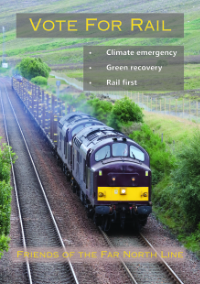 Now that the new Government is in place we hope that all the MSPs remember the election pamphlet we sent them at the start of the campaign.
We asked all 409 candidates who received a copy of the pamphlet to let us know that they understood the need for rapid progress in the building of essential infrastructure for the railways in the Highlands. We received a 3.4% response rate, which was pretty disappointing. Perhaps all the candidates did understand, but were too busy campaigning to let us know.
It was gratifying for us, as an apolitical campaign group, that the expressions of support came from all parties, with LibDem, Conservative and SNP evenly split, one Labour response but nothing from any Green candidate.
Since posting this we have been told that Ariane Burgess, the lead Scottish Green Highlands and Islands candidate, had in fact sent us a message of support on behalf of all the Green candidates - somehow it had gone missing!
In any case the Scottish Green Party has always understood what needs to be done, as shown by their excellent Rail For All report.
At this moment the best thing the Scottish Government could do for railways in Scotland is to put aside politics and adopt Rail For All as policy!
National Charities Call For Transport Spending Review
Transform Scotland, of whom FoFNL is a member, has joined forces with Paths for All, RSPB Scotland, Sustrans Scotland, and WWF Scotland, to send a strongly-worded call to the Scottish Government to act on its declared policy of modal shift from road to rail, and to abandon its incompatible plans, including dualling the A9 and A96.
The letter is in response to the government's draft Infrastructure Investment Plan. The reasons for sending it are explained in the Transform blog.
Scottish Government's Rail Services Decarbonisation Action Plan
Transport Scotland has published the Scottish Government's Rail Services Decarbonisation Action Plan.
We are very pleased to see all this in print now, showing the government's commitment to removing the use of fossil fuels from the railway as far as possible by 2035.
We were aware that electrification to Tain was being considered - it won't happen for quite a long time, but it's good to see it in print. A copy of the Plan is available here.
It is vital now to convince ministers and other MSPs that the Highland Main Line and the Inverness-Aberdeen line are doubled before being electrified. It would become a much more expensive process after electrification, unless full provision was made for double-track bridges etc, as well as avoiding placing masts where the additional track will be.

Join FoFNL with PayPal!
FoFNL has now added the option to pay for membership using PayPal.
This means you can join us without having to fill in an application form and post it!
Just to remind you, we offer one year's membership for £15.00, continuous membership for £12.00 per annum and Life membership for £120.00. All can be purchased at the click of a button.
If you're not yet a member please head to our joining page now!
All new members receive a free copy of FoFNL 25 while stocks last!
Far North Line Review Team Report
Last week the long-awaited Far North Line Review Team Report was signed off by ministers and its plans published by Transport Scotland.
Because of the way projects are now managed, the main infrastructure work is not listed in detail as it is still going through early development work. Unlike previous Control Periods where projects were announced by Transport Scotland before some of the detailed work had been done, and were therefore at risk of running over budget, definite commitment will now be given once all the costs are known. This is the 'pipeline' approach, where projects which will be started in the current Control period (CP6) are not yet officially committed.
From the point of view of campaigners, such as FoFNL, this can be frustrating. Suffice to say at this point that, given that the likely cost of the works outlined in the Report is already known, and that the whole new service specification (timetable and service pattern) which has been agreed in the Report depends on the infrastructure work being done, it is hard to see a scenario in which it will not take place. We just hope it's pretty soon!
Transport Scotland Press Release - 1 November 2019
Transport Scotland FNLRT Report.
Audio Guides to the Far North Line
The Scottish Natural Heritage website used to carry some excellent audio guides to the Far North Line. They were in MP3 format and were ideal for listening to on the train.
We now have them hosted on our site.
E-mail